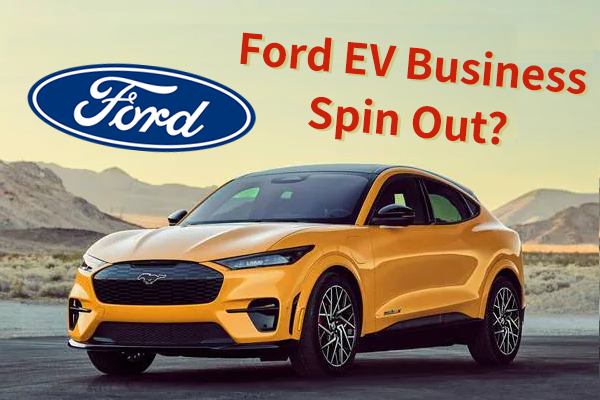 Ford Motor Company Weighing a Spinoff of its EV Vehicle Unit on the Success of its 2022 Lineup:
Ford Motor Company (F) is considering a spin-off of its electric vehicle division in an attempt to unlock the type of market valuation that has given EV market leader Tesla (TSLA) a market value close to $1 trillion. Newcomers all electric car companies Rivian (RIVN) is worth $60 billion and Lucid(LCID) nearly $45 billion, with both just in their first year of production vehicles. Ford, the legacy car maker with over a century of automaking experience is currently valued at just over $70 billion.
The Mustang Mach-E, the Detroit automaker's biggest bet on EVs, beat out Tesla's Model 3 as Consumer Report's "Top Pick" for the 2022 electric vehicle of the year. The F-150 Lightning, an electric version of the industry's best-selling pickup, already has some 200,000 deposits.
EV sales have been forecast to comprise 34.2% of new US auto sales by 2030. If Ford can raise funds with an EV IPO and ramp production of its electric pickup line, shareholders could be in a good position to realize some value in the case of a spinoff of the EV division.
This site references only our opinion and is for information purposes only. It is not intended to be investment advice. Seek a duly licensed professional for investment advice. Disclaimer: We own some of the securities mentioned and may open more positions within 24 hours.