Thursday December 16th, 2020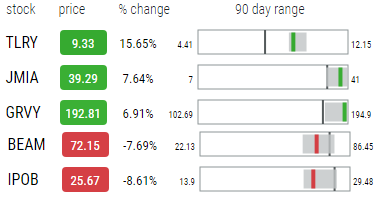 Biggest Gainers
Tilray (TLRY)
The Canadian Cannabis company reported a merger with Aphria (APHA), another Canadian producer and supplier of primarily medical marijuana. While this may help Tilray in the longer term, it's been a troubled stock with a run up to around $150 in 2018 and lows under $5 as recently as this September. The stock has suffered from dilution, and the company has a poor balance sheet. Both stocks have benefited from the run up of cannabis stocks, and Tilray was up on the news while Aphria was mostly flat on the day.
Trade
If we owned the stock, we would take our profits. The stock has and will be volatile, and while this does periodically present some good options plays, we would not be long this stock. If investors are looking to get into this space, especially on the momentum of the future Democratic Presidential administration and a steady stream of states legalizing or decriminalizing marijuana, we think there are better weed stocks out there. One of our favorites is GrowGeneration (GRWG). It's a grower supplier, and can be thought of as the picks and shovel of the industry, with a great balance sheet and impressive revenue growth - up more than 11.50% today!
Jumia (JMIA)
The African e-commerce and payment platform has had a great month, up over 160% on the month, and has begun exceeding its previous 2020 highs. We are long term bullish on Jumia and while there have been some mixed results in recent in quarterly earnings, it looks like the company is headed in the right direction and gross profit was up 22% and the operating loss has been nearly cut in half from the previous year. According to The Council on Foreign Relations internet access is growing much more rapidly in Africa than anywhere else in the world. PWC projects that six of the world's 10 fastest-growing economies are in Africa; for the period 2014-2050. We think given time, and proper execution it's not infeasible to think JMIA could grow into what MercadoLibre (MELI) is in South America or Sea Limited (SE) is in Southeast Asia. With a market cap just over 3 billion, given enough time, and some luck, we see a lot of potential long term upside.
Trade
We are bullish on JMIA and long the stock. It's just broke past its previous 2020 $38 high and if it can close above 40 may begin continue moving up in the short term. It is important to note, it's been an incredibly volatile stock, and we've continued to add to the position on pullbacks. Starting just a small position here may be prudent, and adding more if it dips to the mid/low 30s. Barring any broader market pullbacks this seems to be forming a base at around 30-32 over the past few weeks
Gravity (GRVY)
Gravity is a Korean gaming company, was up over 7% today and reached all-time highs. This is a stock that often flies under the radar, but we think is one investors may want to keep an eye out for. The company reported 76% growth last quarter, and had had consistently high triple digit revenue growth in previous years.
Ragnarok is the company's wildly successful massive multiplayer game and while the company is Korean based, the game is popular throughout several regions of Asia. Despite its massive run up, it still has a market cap of just over 1.3 billion - which based on its revenue growth and expense ratios is considerably cheaper than its peers. As the company grows and garners analyst coverage and more investor attention we think this stock may have a lot more upside. While some investors may be wary of investing in a company with focus primarily on a single game franchise, the type of massive multiplayer game has proven to be sticky for years, or even decades. This is especially true when paired with a growing audience base as GRVY has seen, since new product versions, upgrades and subscriptions offer continued revenue for years to come.
Trade
The stock has been consolidating in the 170-185 range the past few weeks, and is beginning to break out. Starting a small position may be prudent, but volatility is high with a small cap stock like this so there may be a better time to enter the stock. However, with new releases and potential to gain more mainstream notice from Wall Street with the recent growth, this may continue breaking out and get away for overly cautious investors.
Biggest Losers
Beam Therapeutics (BEAM)
Beam Therapeutics is up 200% since its February 2020 IPO and has almost doubled since the start of November - so it's hard to call this stock a loser. The pullback here is mostly a result of some healthy profit taking.
Beam is a very promising biotech company developing precision genetic editing medicines, utilizing the very hot CRSPR technology. The company was founded by David Liu, a pioneer in the field, who previously founded Editas(EDIT) - another leader of the CRISPR biotech space. Beam stands out in this field by its use of base editing which can target single edits in DNA with great precision with chemical reactions. Other companies in the field like CRSP, EDIT, NTLA use genetic editing which make double-stranded cuts in the DNA, and while that technology is farther ahead, has technical issues that still need to be overcome – primarily unintended cuts in the DNA which may have unintended consequences like cancer. But due to the greater efficiency in base editing technology, it generally has more precision and less issues with unwanted DNA changes to overcome. Though these issues are not completely unheard of with base editing either and more work is needed especially since this is a newer technology.
While there are many diseases that BEAM could use this technology to potentially address, the most immediate one is sickle cell anemia which is caused by a point mutation, exactly what base editing could one day treat more efficiently than the more involved gene editing approach. In fact, BEAM is currently pursuing two different base editing approaches to treat red blood cell disorders.
Trade
While biotech companies have run up a lot over the last couple of months, and early stage companies like Beam will be especially volatile in the near term, we do like having at least a small portfolio allocation to a few of these early phase promising companies in this space. Pullbacks like today may present a good opportunity for investors with a long term horizon to begin scaling in to a position or add to an existing one. Investors who want exposure to this exciting field, but want to reduce volatility and single stock risk could consider ARKG. AKRG is ARK Invest's Genomic revolution ETF which includes BEAM as well as other CRISPR publicly traded companies.
OpenDoor (IPOB,OPEN)
IPOB is Chamath Palihapitiya's second SPAC which will very likely be merging with OpenDoor. What is a SPAC? His first was Virgin Galactic(SPCE). A shareholder vote scheduled is for Dec. 17 to officially approve the deal. It will then likely begin trading under OPEN as Opendoor Technologies starting on Monday, Dec. 21. Today's loss was probably mostly attributed to profit taking after a large run up, especially ahead of the merger, historically a volatile time for a SPACs
Opendoor is a leader in the iBuyer home space, which is a business model where a company buys homes directly from sellers, usually online, makes any needed repairs and upgrades and resells them. In a growingly digital economy, with more and more millennial homeowners, with proper execution, it's not hard to see considerable opportunity for years to come in this space. And with Chamath's leadership and the company recently announcing the hiring of several seasoned veterans in key leadership roles, we don't anticipate execution being a major risk.
Trade
We do like Open-door, and the market agrees - this SPAC is up 150%. With the merger happening over the next few days, it's usually a very volatile time for SPACs . So if investors don't have a position we don't think it's the best time to enter, though that's based on each investor's own risk tolerance. We do think growth investors should at least look into this name, and consider entering it on additional future dips. We were in the IPOB SPAC from before the merger announcement, though have trimmed some of our initial position we intended to stay in the name. For a safer alternative, investors may want to look into Chamath's other pre-merger announcements SPACs: IPOD, IPOE, IPOF. What is a SPAC?
This site references only our opinion and is for information purposes only. It is not intended to be investment advice. Seek a duly licensed professional for investment advice. We have long positions in all of the six stocks mentioned.