Overview
Asana recently went public through a direct listing on September 30, 2020 and is expecting to announce their third quarter earnings Wednesday, December 9th - their first earnings since going public.
Asana was founded by Dustin Moskovitz, who prior to Asana was one of the co-founders of Facebook having been Mark Zuckerberg's roommate at Harvard. Prior to going public Asana posted a 57% increase in second quarter revenue, with a gross margin of 87%. However, their net loss is also growing, but that is understandable with company at this stage of it's lifecycle usually focusing on growth. As of start of 2020, the net retention rate for customers spending at least $50,000 annually was 140%, and for customers overall was just north of 120%.
After initially trading down for the first months after first being listed, the company has begun breaking out in the past couple of weeks and if it can hold the $26 level , it may present a good entry point.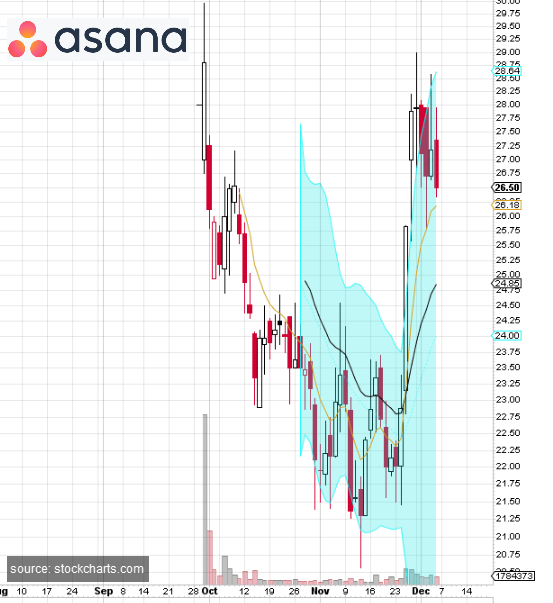 What is Asana?
Asana is primarily a popular work planning software. Think of a large project – a release of a new piece of software or the creation and execution of a marketing campaign. For the project to succeed and be delivered on time, individual tasks, milestones, assignees, due dates need to be assigned, delegated and tracked. Asana can help organizations manage their work by breaking them out into individual components which can then be assigned, commented on, and individual status progressed throughout the full lifecycle of the project. Such software can make teams more efficient by reducing the time and management effort needed for frequent check ins on progress, status updates, blockers by managing this information in a single centralized place.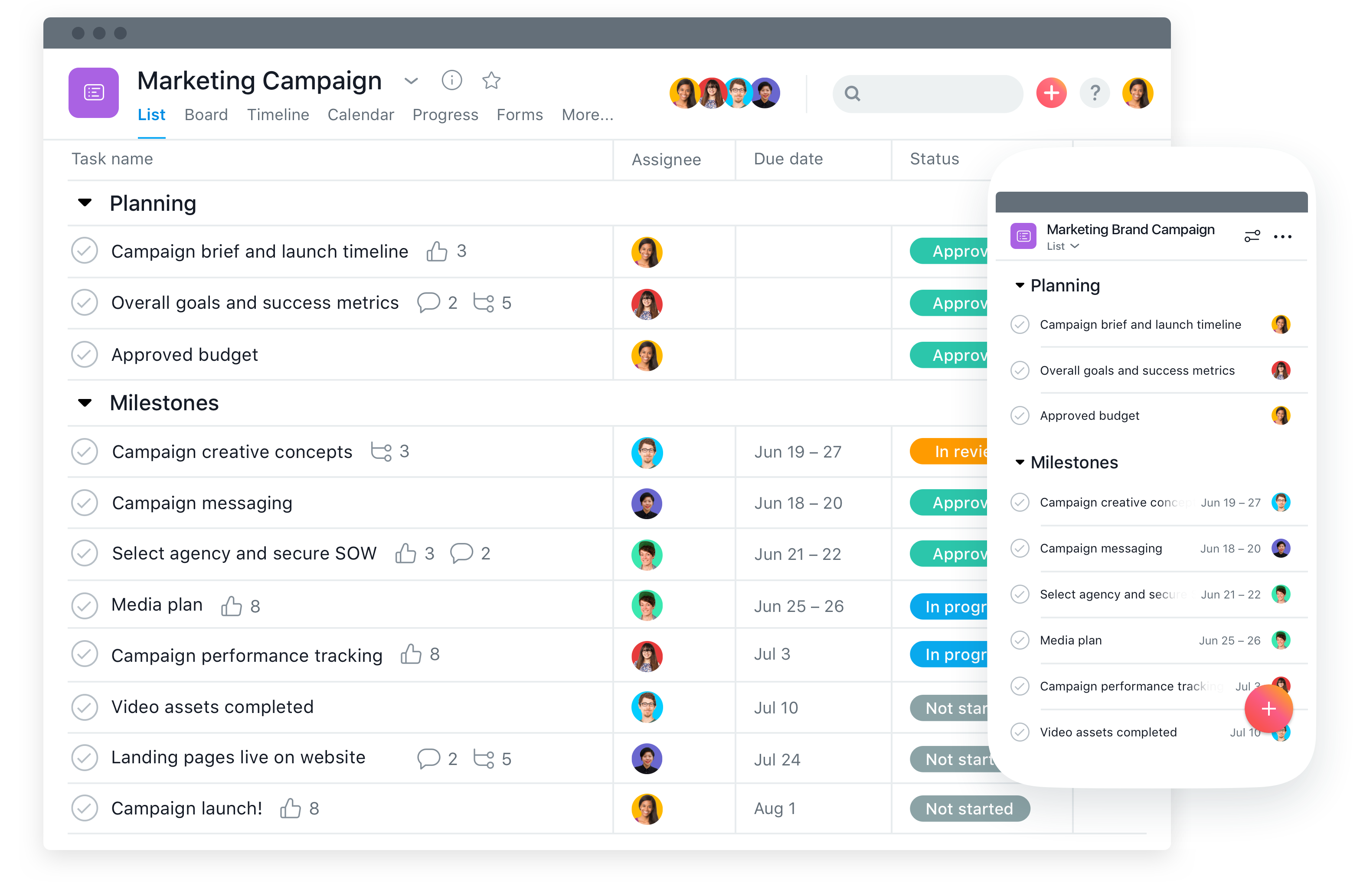 Competitors and Market
There are a number of competitors in this space including Jira, Wokzone, Trello, Wrike, SmartSheet, Monday.com, Microsoft Project & Microsoft To Do.
While this is a crowded space, the workplace productivity software space is here to stay and rapidly growing as organizations of all sizes are incentivized to invest in software which can make their team more efficient especially as employees are increasingly more spread around the world.
Since adopting the use of such software is usually heavily embedded in organization's operations workflows, there is a lot of stickiness once the software is implemented. And as employees move from company to company they often bring their favorite tools with them, which helps fuel customer growth naturally.
Even with competition, this is not a winner take all type of software category with the entire category growing. Revenue can continue to grow without having to only rely on capturing market share. And with a free tier available and premium pricing on a per user basis, adoption of Asana can start at a team level and not require a large, expensive, organizational level software implementation which may require executive sponsorship. This further can help Asana expand more nimbly and exist in companies without completely replacing other competing solutions. We've seen first-hand, different departments within the same company using competing products - marketing and project management may use Asana, while technical teams may use Jira. There's even tools to integrate between Asana and other platforms like Jira, Salesforce, Teams and Slack.
Asana does stand out with its clean interface and ease of use , and an increasing number of features which gave more flexibility to users to customize the product to meet different organizations' workflows and needs. Many engineering, product management and more technical teams have been using Atlassian's (TEAM) Jira for planning and workflow management for years, and while we can see this as an area where Asana can capture some market share - we think a big opportunity is for departments outside of engineering, like project management, marketing that may have less industry uniformity in productivity software.
Looking Forward
Last week, Piper Sandler upgraded Asana based on the positive tailwinds in workplace software. The analyst upgraded Asana to overweight and set a price target of $33.
From the company's SEC filings, revenue has grown over 50% for the last 8 Quarters, but revenue growth has been slowing from 88% in Q2 2019 to 57% in Q1 2020. As long as Asana can continue their revenue growth, with a 4.1B market cap, and currently at roughly 14x next year sales we think the company has plenty of room to run and grow in the future. It's not unthinkable to think that Asana can one day grow into even a fraction of Atlassian's size which is currently valued at just over 54 billion.
While pure earnings plays, especially shortly after IPOs are risky, we think Asana can be a good option for long term investors looking to get in early on a SaaS company with great growth potentials, before it's received a lot of the attention and premium valuations many of its other SaaS peers have received.
This site references only our opinion and is for information purposes only. It is not intended to be investment advice. Seek a duly licensed professional for investment advice. Disclosure: We are long Asana stock and May 2020 call options.