Booking Over Extended on Vaccine News
The vaccine news has quickly lead to a large rebound in virtually every COVID recovery, "value", travel stock. However, with the pandemic numbers rising to unprecedented levels some stocks in particular have seemingly gotten ahead of themselves.
This is especially true for travel stocks. Today we're looking at Booking Holdings (BKNG). Booking operates Booking.com, KAYAK, priceline, agoda, Rentalcars.com, and OpenTable. BKNG has been historically a great company with a strong balance sheet and great returns over the past decade. While we're bullish on BKNG over the long term, and think it is likely it will come out of the current pandemic and rebuild it's strength and continue to grow over the coming years, it's very difficult to see how now it should continue trading at 52 weeks highs, and just a few percent of all time highs given the current climate. A vaccine is great news, but the travel will continue being largely a troubled industry for a minimum of another couple of quarters.
As you can imagine with any travel stock, the past couple of quarters have been challenging ones - yet the stock is now at 52 weeks highs.

Prior to this week, it's previous 52 high close week was 2,080.50 on January 13th, 2020.
It's all time high 2206.09 was over two years ago on March 12, 2018.
On November 9th it reached a high of 2,128.02 but closed below that.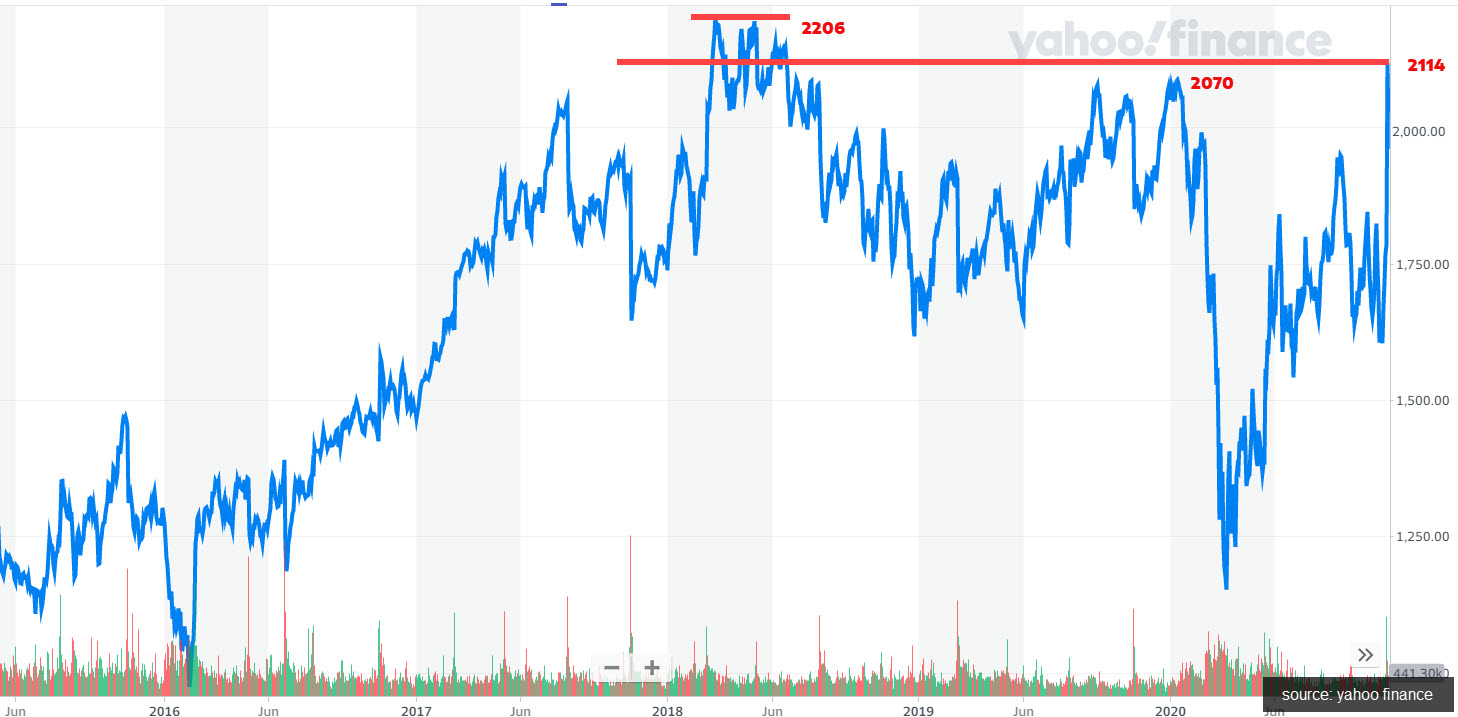 We're entering a trade where we think this will begin reverting to the mean once the vaccine euphoria settles. For this trade we've entered a call credit spread. Here we're selling the 12/11 $2120 call and buying the 12/11 $2140 call.
Sell 12/11 $2140 call
Buy 12/11 $2120 call
Net credit/max gain: $900
Maximum loss: $1100
With a credit spread, your hope is that both options expire worthless and you get to keep the premium. If the thesis is correct, the closer to expiration the option is and the lower the stock price is, the more the value of spread decreases. Assuming it finishes below 2110, the calls expire worthless and the premium is kept either way.
If BKNG goes beyond these levels, depending on risk tolerance, it's possible to roll out the spread out in time, expand the width and increase the strike prices.
This site references only our opinion and is for information purposes only. It is not intended to be investment advice. Seek a duly licensed professional for investment advice. Disclosure: we are net short BKNG with call credit spreads.